About Liz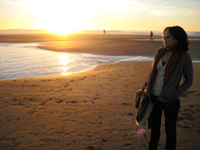 About Liz.
Liz Rutledge is a graphic designer, web designer, and economic research analyst from San Francisco, currently living in New York City to pursue an MFA in Design and Technology at Parsons the New School for Design.
In her west coast life, when not doing work related to one of these three fields she would generally have been found playing soccer, coaching lacrosse, decorating living spaces, doing yoga, gravitating towards the Pacific Ocean, or surfing the internet for news of the latest and greatest web technologies. These days, however, you can pretty much always find her working in the Parsons 10th Floor Lab, working at her desk in her apartment, or sleeping.
Resume and Artwork
Feel free to look through Liz's portfolio site at www.lizrutledge.com—there you can find examples of Liz's work both before and during Parsons, as well as her resume to read more about her education and experience.