For the final project, I thought that this project that I worked on in my Collaborative Print class was a perfect way to examine the design as social activism topic of Design for this Century. For this project, we were tasked with the challenge of fostering awareness of an environmental issue and somehow disseminating information in order to modify people's behavior relating to that issue.
The topic that we addressed was the obscene amount of plastic bags that we go through every year worldwide (one TRILLION), and especially in New York (2.9 billion in New York City alone). We wanted to use design as a way of catching the user's attention while also giving them a take-away that would inform them about ways in which they can help.
The end-result was an installation similar to a newspaper distribution box that we placed in the lobby of 2 West 13th for several hours, which contained 30 small tote bags with the phrase "Plastic is for Losers" letterpressed to the front. Each bag also included an informational card about ways that they can help by going to bag-making workshops or taking courses in sustainable design here at Parsons, and the users had the option of signing up for additional email updates on the topic. The bags were also somewhat comically small, adding an interesting element to the design—these were not simply another throwaway tote bag that you get everywhere, they offerred a fresh take on the situation. If you wanted to actually use the bag, it was actually perfectly sized to stick in your pocket when you run out to grab a snack at Valentino's. But as this was really the only practical use of the bag, it added a conversational element to the piece as well. By being a somewhat peculiar size, it emphasized that we were trying to start a thought process, not just give out another bag. The bags would also be more visually attention-grabbing if the users do find use for them, allowing the message to be spread further.
The feedback we got from users was actually great, many were excited about the bags and really appreciate the message we were trying to get out there. the bags were gone in a little over an hour, and we actually got a handful of email addresses as well.
The use of plastic bags is an important issue in my opinion, and I enjoyed getting to translate the ethical and activism-based topics we studied in Design for this Century into a project that would help shed light on this problem. If we were able to scale this type of experiment up to a larger city-wide scale (and made the bags more eye-catching in order to make the user want to both keep and USE the bags), I think that we could make strides in discouraging the use of plastic bags in the city. As we stated on the informational cards, if every student at the New School used just one less plastic bag each day, we would save over 3.5 million bags each year! How's that for scalability.
Just a quick thought on this week's surprising turn of events. I thought it was very interesting (albeit incredibly awkward) how Clive handled this last lecture, making it much more meaningful than if he had just fizzled off into the sunset with another of his normal lectures. The idea of bringing up Nathan's paper before the whole class and addressing each of the points with critical eye was fairly courageous and added to the respect that I have for Clive as an educator. Furthermore, by addressing each of the alleged shortcomings of the class, Clive showed us that design is an ever-evolving process, emphasizing the idea of this first semester of Design for this Century as simply a first of many iterations.
In way we were just the users in a semester-long user test—and by not being overly emotionally tied to the way things fell into place Clive showed us how to put aside one's pride and address the feedback you get from the user testing, incorporating it into further iterations. Well done, Clive.
"Tools can say a lot about how things need to be done, but next to nothing about what things ought to be done."
"Technology does not care, it is godless. Increasingly it acts as a 'nature' and as a law unto itself (in its 'will to will'). There is now very little correlation between an ability to create a technology and any understanding of what it will do, its temporality (including how it will transmute), what it will create or what it will destroy.
I found these quotes especially noteworthy in this week's materials, as they relate to much of what I've been thinking about throughout the course of this semester. However much a designer intends their creation for one purpose or another, their intentions do not ultimately reside in the object itself. The best of designers can perhaps infuse much of these intentions into the object through the choices they make in the design process, but at the end of the day it is the interpretation of the user that dictates what that tool will be used for.
This line of thought has been explored throughout history, most notably with respect to inventions like the atomic bomb. The scientists that worked on splitting the atom were doing so not so that they could devise a method of killing as many people as possible, but to further the noble pursuit of science, and to potentially create energy-producing devices that could free us from our dependency on fossil fuels. But any good intentions were cast aside when the technology was put to use inside nuclear warheads and atomic bombs, and used to kill millions of innocent people. Basically it all comes down to one basic concept: just because we have technologies that give us the ability to do something, does it really mean that we have the moral right to do so?
I took away two major ideas from this topic. First, that we should be very careful when designing new projects or technologies, considering all angles before releasing it on the public. Granted it is impossible to dream up the infinitely large number of ways that users will interpret our designs, but we should at least try to look at the project from the eyes of many types of users so that we're not surprised when someone tries to use our ideas for what we consider to be morally wrong. And second, we need to begin to shape the minds of the people that use our designs as much as possible—perhaps by addressing the humanity in our users by creating these objects that "care" as discussed in lecture, we can help to shift the mentality of those people that might ordinarily have changed a design for a morally reprehensible purpose. I'm not suggesting that we as designers have the capability (or even that we should even try) to brainwash the public; but I do think that if we start to infuse our designs with as much ethical "goodness" as well can instead of just creating the same old dry products, that we can cumulatively begin to make a difference.
Being a fresh-from-San-Francisco Californian, I really enjoyed this week's discussion on design as and for social innovation. San Francisco is one of the more socially innovative cities in the U.S., at least as regards environmental and conservationist practices, so it was fun to see the design process that's involved in creating the very systems that I have become so familiar with over the last few years living there (and which I constantly gripe about not being able to find here in New York).
Social sharing is the most state-changing of these developments in recent years—the prevalence of companies like ZipCar has made it clear that people want to be able to take advantage of the benefits of having these types of resources without having to front the entire cost by themselves (cost being defined as either literally the personal monetary cost or even the cost to the environment). In the past for whatever reason it has always been assumed that each person or family unit wants to live as an autonomous being, where their resources are their resources, not anybody else's. But with growing economic troubles and a call to people worldwide to take more responsibility for the negative impacts of their behavior on the environment, we have seen an inspiring willingness and even desire for people to become interconnected and tackle these problems together. It is not enough to design a product for one user anymore— at the VERY least it now has to have the ability to interact with other users, if not simultaneously address the needs of all sorts of users in a social context.
I also thought the Open IDEO example that Nadiah talked about in recitation to be interesting as a concept. People have used this type of crowd-sourcing to decrease costs and increase opportunities in various industries (such as 99designs.com where people that might not ordinarily have been able to afford design work before can now receive multiple bids at the click of a mouse) but this is the first time I've seen it applied to humanitarian good. While I'm sure there are some details that still need to be hashed out in the Open IDEO model, I couldn't help but wonder if it were in a way simply the socially-minded version of a 99designs.com? And if so, hopefully this will bring well-designed and implemented ideas to countless places that ordinarily could not attract that kind of help; somewhat in the way that 99designs.com has successfully brought well-designed logos to even the lowliest of frat theme parties nationwide.
I was intrigued by this week's exploration of what culture really is, and especially by the definition that culture is at its base "a concern with keeping the forever inexhausted and unfulfilled human potential open, fighting back all attempts to foreclose and pre-empt the future".
Similar to last week's discussion of recouping the everyday as a way of holding onto that which makes us human, I think that it raises interesting questions as to our responsibility as designers to help maintain this open path toward the future. It also made me think about the ways in which technology shapes the ways that we approach things, including the creation of new technologies, and how if we don't keep an eye open to the outside world it would be easy to corner ourselves in an ever-shrinking realm of possibility. Technology is at its core supposed to be undertaken in the interest of opening up the future by allowing things to happen that we never thought possible—but what happens if these technologies get so wrapped up in building upon the innovations of the last set of discoveries that we miss out on entire worlds of potential discovery?
It is important that we always look not only at the most recent precedents when developing new technologies, but also to the most fundamental human needs and tendencies so that we don't effectively put blinders on our work. As long as we constantly consider the very qualities that make us human at every step along the way, we should hopefully be able to keep our culture moving in a direction that will keep this unfulfilled human potential open&mdashlinstead of closing it off with technologies that do some things with the utmost skill but create barriers to our simplest of needs.
I thought that the discussion of souvenirs and the nature of the design object's role in our everyday lives was interesting during this week's lecture. The idea that design artifacts up until this point have largely been objects of utility and not emotion was surprising to hear at first, but then made more and more sense as it sunk in. Why is it that we all have souvenirs in our homes, regardless of socio-economic status? And why is it that capital-D "Designers" rarely stoop to designing them? The mere presence of these artifacts in our homes implies that the professionally designed objects are not taking care of this emotional niche.
I enjoyed the further explanation of this phenomenon as being an example of recouping the everyday as well—it really is a uniquely human and endearing quality that we can see the beauty and achievement in everyday accomplishments, and souvenirs are simply one way of attaching an emotion or memory to a silly object in order to celebrate this truth. I think that this would be an interesting area to focus on in my ongoing work: the idea that designed objects shouldn't just be functional, but should further address the emotional needs of the user. A well-designed tool is certainly an asset, but if we can infuse all our designs with details that take care of other wants and needs that are inherent to the human psyche, we could elevate the entire profession of design to another level.
Here's the slideshow from my in-class presentation following Clive's Critical in Design Lecture (which included Lisa's intervention regarding the Discipline of Noticing). Click on any of the images for a larger view, or you can download the pdf file here if you want the whole slideshow as one file.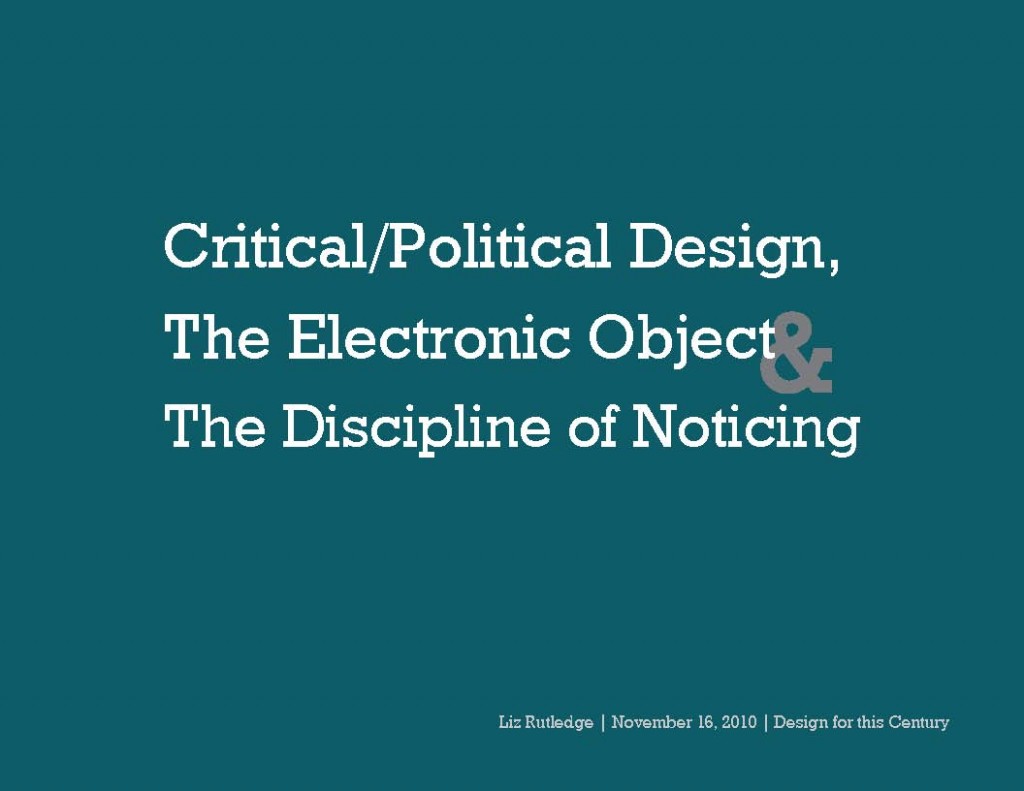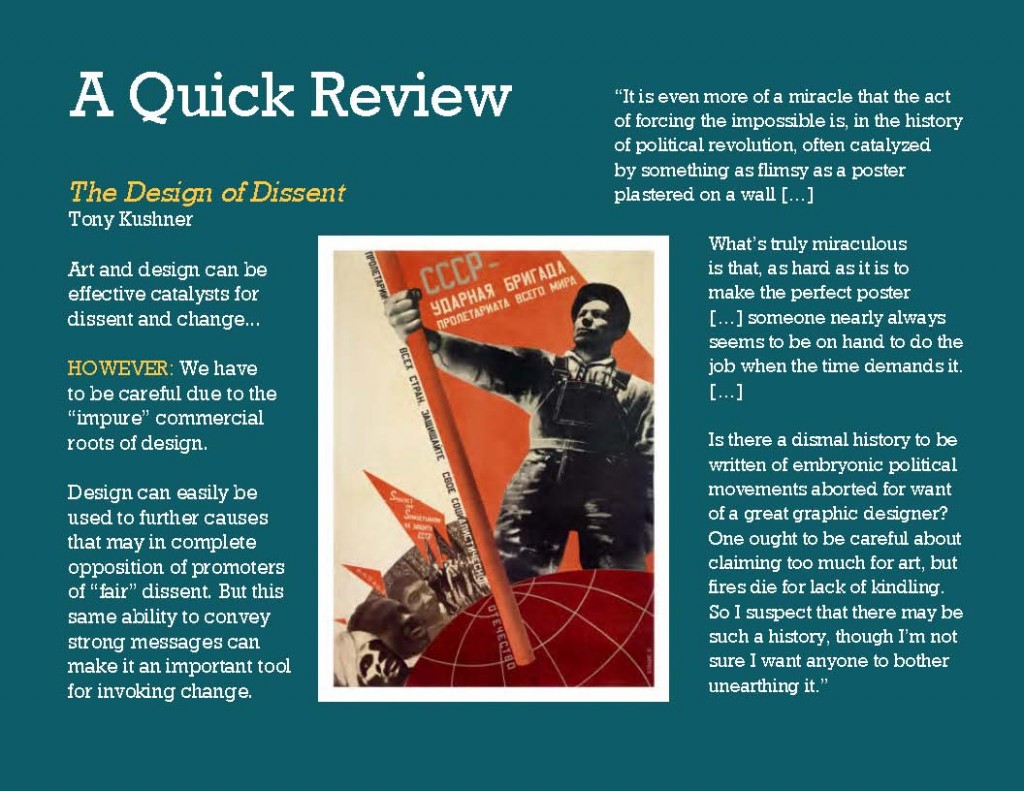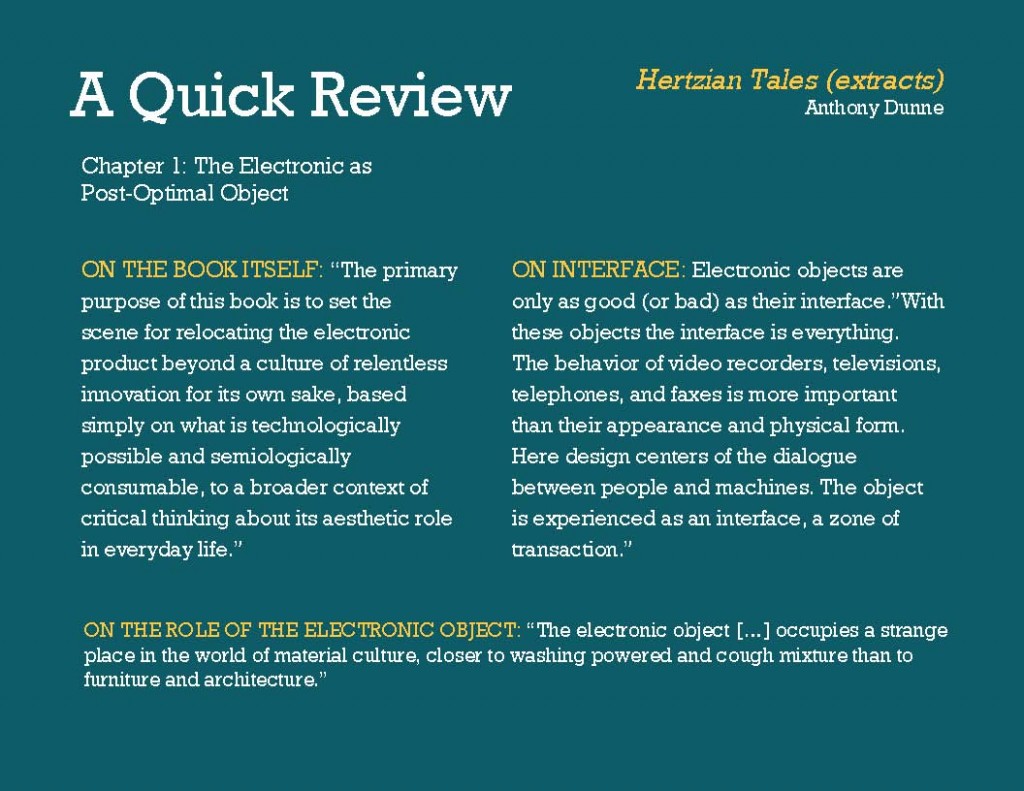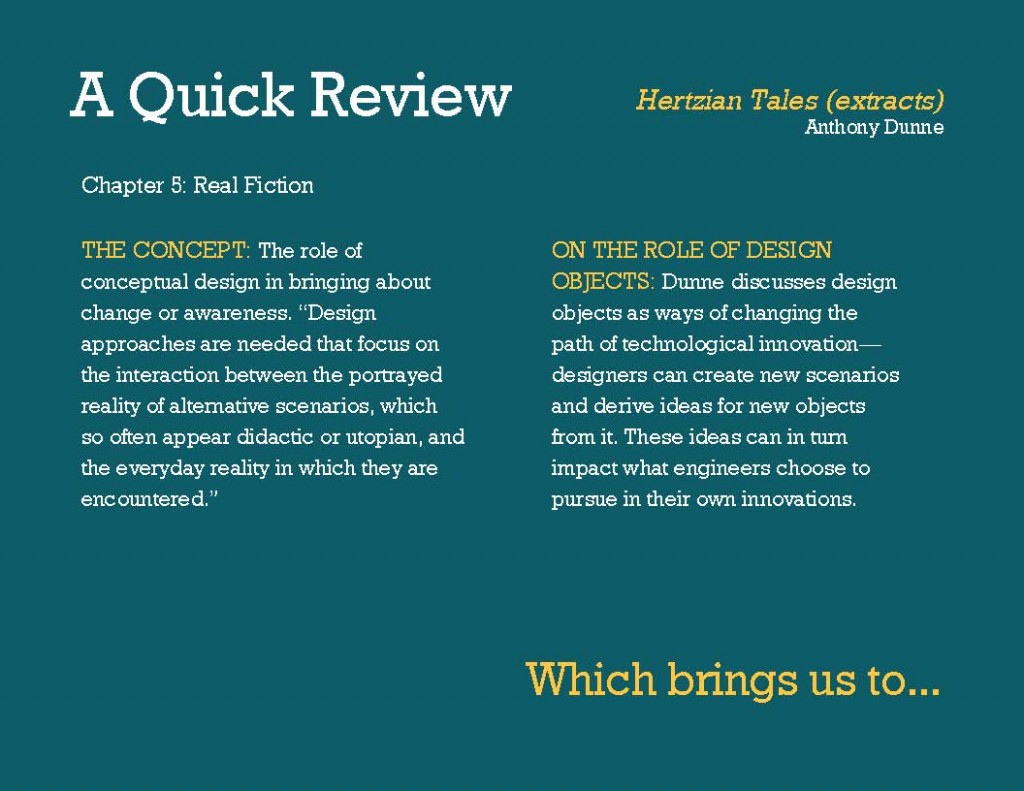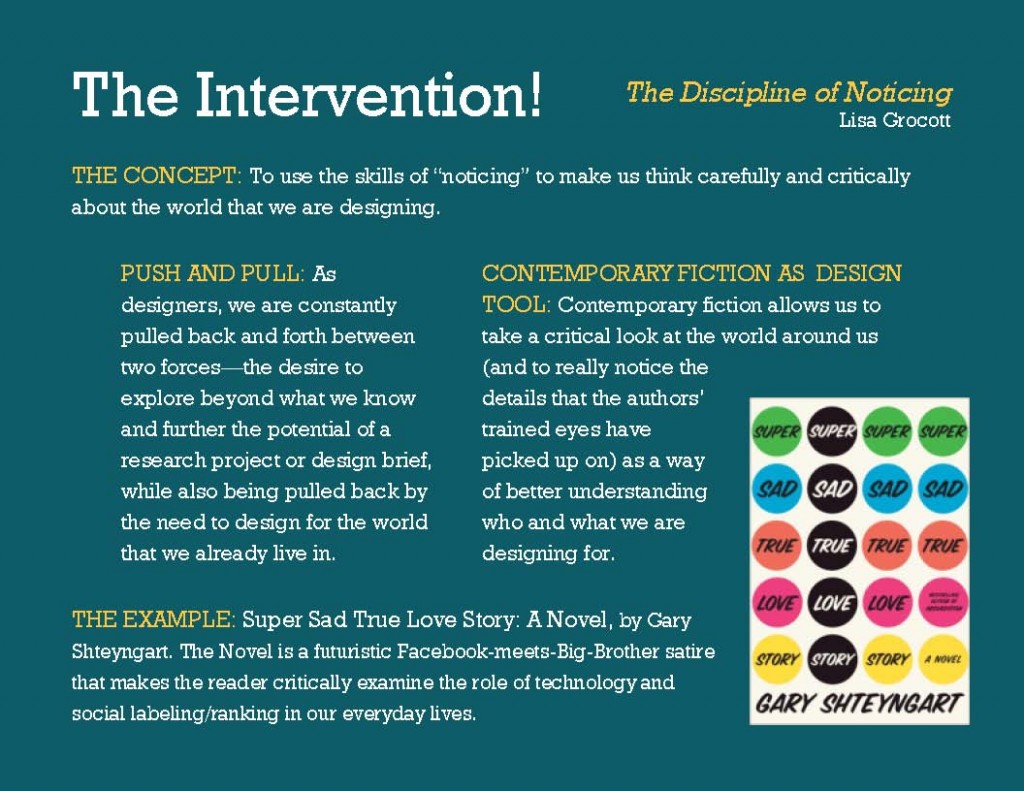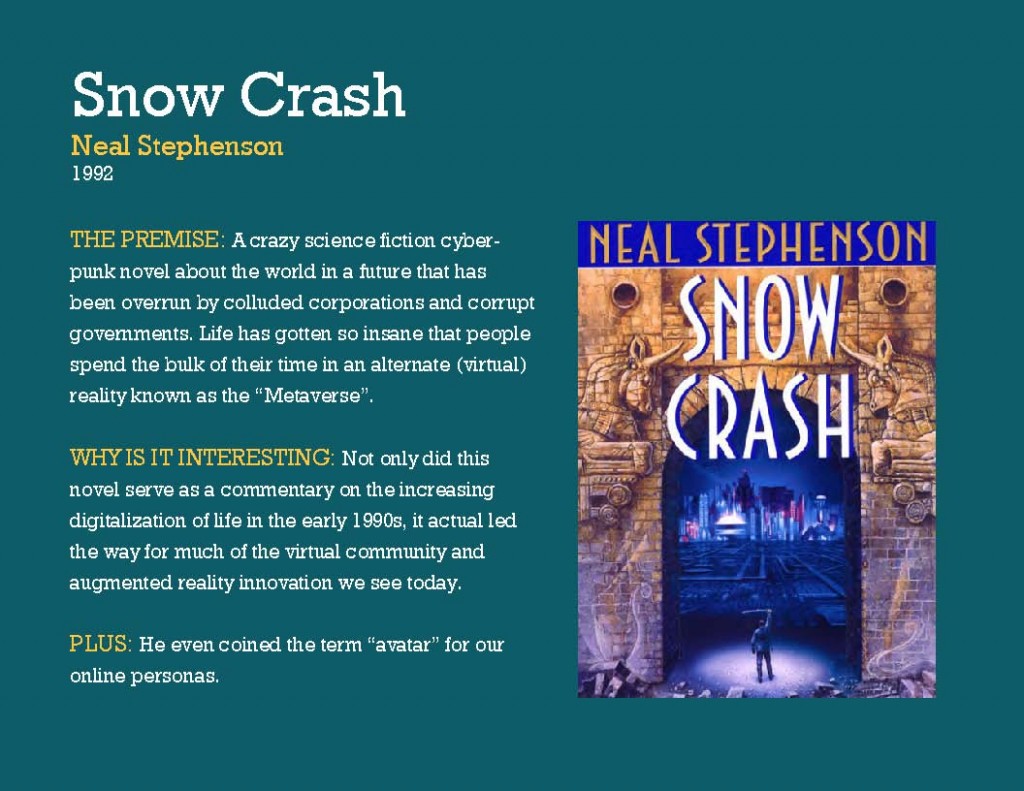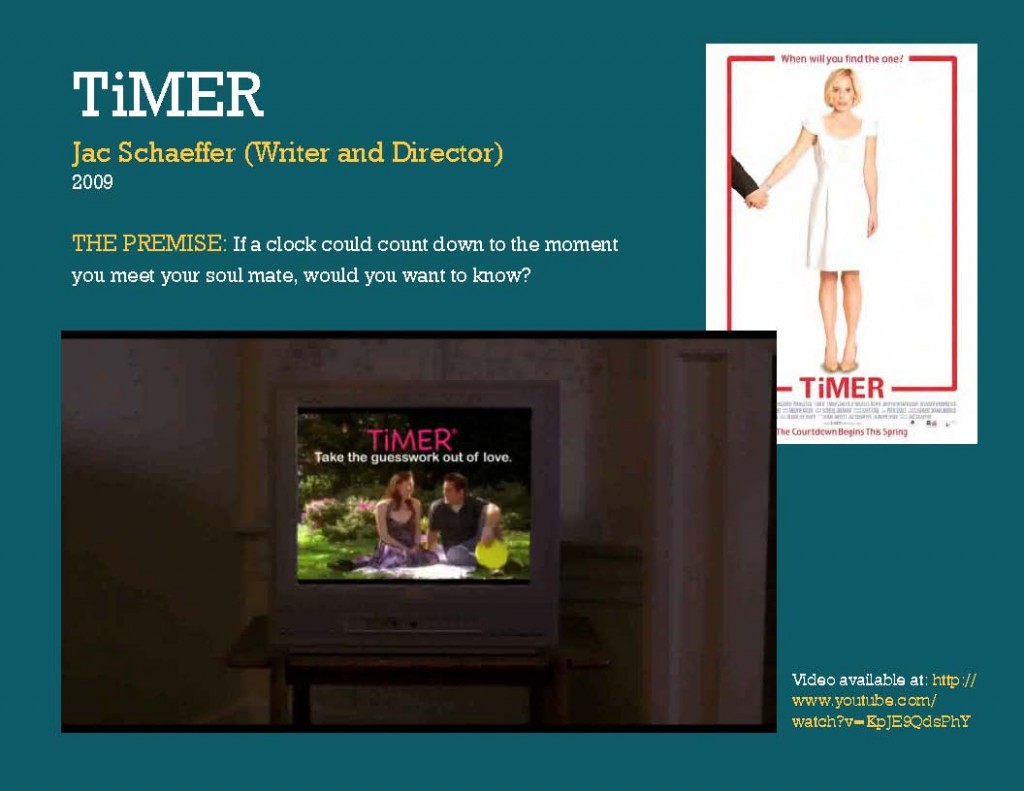 As this was the second lecture on the critical in design, I'll focus this post on Lisa's intervention. I found her observations about "Discipline of Noticing" and modern fiction's relationship with society and design to be particularly interesting; as an economics major it has been drilled deep down into my psyche that all work benefits when individuals in society exploit the concepts of division of labor and comparative advantage—and what better way to divide the "labor" of observing society than to join forces between design and literature?
Modern fiction writers specialize in scrutinizing society and creating works that often illuminate their findings in ways that are incredibly illustrative. And while designers also pride themselves on their abilities to observe, writers have honed a slightly different version of this skill. Designers have to focus on user behavior and the social climate as they relate to the creation of design artifacts. We are generally looking to modify or augment behavior in one way or another, and while we may not like to admit it, we can't help but allow this ultimate goal to frame (even if ever-so-slightly) the ways that we observe people. Fiction writers come at observation from a different angle—they observe more just for the sake of observing, storing little visual and cultural bytes away in their mind to be recalled later in their work. They watch for anywhere from the tiniest quirky details to broad-sweeping social and cultural trends, and only after observing do they know what they want to do with the information. Their work is not necessarily intended to immediately bring about change or modify behavior in the way that a design artifact tries to, it is more to point out things that are happening in the world in a way that paints a vivid picture for anyone who picks up their novel.
As a designer, being able to ingest the research and work of other creative minds via literature is a wonderful (and efficient) way of synthesizing the work of many different skill sets, potentially introducing all-new types of ideas into a designer's repertoire. Much social change has stemmed from critical design work or pivotal pieces of contemporary fiction; it would be remiss of designers as a whole to not tap into this resource as a way of finding inspiration (and direction) for their projects.
While I usually find more food for thought in the lectures than the readings, this week I was especially struck by the Hertzian Tales extracts we were asked to read. While slightly different in focus, both Chapter 1 (The Electronic as Post-Optimal Object) and Chapter 5 (Real Fiction) stressed important points to the design world as it currently stands and the DT program in particular.
Chapter 1 (The Electronic as Post-Optimal Object) raised some excellent points about electronic products' current place in the design spectrum—which is to say they barely even have one. Before Apple started cranking out beautiful design after beautiful design at the start of the "iPod era", attempts to integrate design into small electronic consumer gadgets was generally minimal, and oftentimes just abismal. Because of their close relationship to engineering (since electronic engineers are the ones creating the circuity and mechanisms that drive the products) they have somehow slipped under the radar for some time as something that for reasons unknown is undeserving of design. It is as though people just relegated these products to the "gadgets" category, assuming that the "nerds" behind the scenes couldn't possibly understand good design enough to integrate it into the form and functionality of a product. Thanks to companies like Apple, however, consumers are finally becoming aware that beautiful design and small consumer products can coexist, opening the door for people like us—technically-adept, creative minds trained in finding the synergies between art, design and technology—to continue to push the envelope. (And hopefully to make a little bit of money doing so!)
Chapter 5 (Real Fiction) though adds a deeper element to this line of thought, discussing how conceptual design is in fact partly responsible for shaping history going forward both directly and indirectly. There is of course the idea that critical design can bring about awareness and change people's behavior as a direct reaction to the design itself. But more profound is the idea that what designers create can subtly affect the way that engineers innovate, potentially allowing for the invention of technologies that would never have been conceived without a little help from an inspirational piece of design.
Combining these two chapters puts forth an interesting challenge to the DT students as we work at the cutting edge of the industry: to change the way that we as a culture perceive technology by viewing it through a lens of design, but also to really think about the implications of the directions that we pursue—the artifacts that we create might a larger impact than we could ever realize.
Margot's discussion regarding how the aura around works of art has changed with the pervasiveness of photography pointed out an interesting connection with the areas of design we have been investigating in this class. The reduction in a piece's "mystique" is of course a notable effect (which can be perceived as either positive or negative depending on who you ask), but what was more interesting to me was the implication of the increasingly ubiquitous presence of any pieces of visual art or design in our everyday lives.
This overcirculation of imagery is perhaps responsible (in some small part) to the rise in public awareness of design in recent years—whereas in the past only the most widely recognized pieces of art and design might be seen by the general population, now people are aware of visual pieces across all spectrums. Yes, fine art may have lost some of its shine now that everyone has cheap posters of great masterpieces rolled up and buried in closets, or stuck to dorm walls with fun tak—but what this has done is allowed people that might not have otherwise been interested in pursuing any form of visual knowledge to be exposed to indisputably great pieces of artistry. Without even being aware of the change, we as a culture have unwittingly become more visually sophisticated, thanks in large part to this trend in great pieces of art and design popping up, well, everywhere.
Combine this increase in visual knowledge with the falling costs of technology, and we now have a culture where good product design is not just reserved for the highest socio-economic strata, but is in fact expected in even the smallest consumer products. (Have you seen the most recent iPod nano??) I agree that is it unfortunate that the wonderment that one gets from seeing the Mona Lisa has been dampened by effectively over-saturating the market with that coy smirk, but I think that this may just be part of the cost of an increasingly aware "everyman"—this trend has allowed people to both know about and interact with products that integrate design into their very essence on a daily basi, and has afforded us as designers a veritable playground for our own designs. Thanks to photography spreading good design into every nook and cranny of culture, consumers are beginning to appreciate good design—which makes our job a lot more fun.