For my seventh and final project, I wanted to extend my concept from Day 6. Thinking about objects being stripped of their color, or more specifically being painted white, got me thinking about the ghost bikes that have been popping up in more and more cities across the U.S. and Europe.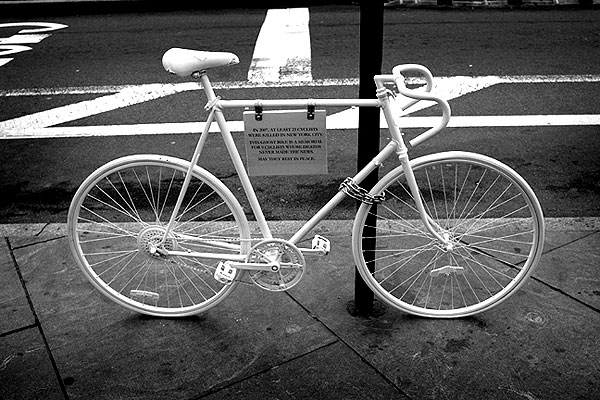 (For anyone not familiar with the phenomenon, ghost bikes are bicycles that have been painted white and chained to a city landmark to point out the site of a tragic cyclist accident. The movement has been widely embraced and is an incredibly simple yet powerful way of bringing about awareness of car and bicycle safety in hopes of decreasing the number of similar future accidents. More information on the movement can be found here.)
I began thinking about what might make a good candidate for a similar experiment on a smaller scale and kept my eye out for objects while searching for picture frames for Day 6. And while it could be a coincidence, I suspect that my being in a degree program for Design and Technology influenced my final decision of where to take this project: I would paint old, broken-down and most-importantly, deprecated, pieces of technology in order to memorialize both their passing and their contributions to the line of technological innovation.
Now believe it or not, while old technology seems like something that would be easy to find at thrift stores, it turned out to be much harder than I anticipated. Any old tech that I found in the first few shops was $30 or more per item since they were only selling things that still functioned as originally intended. (A shame really, I would have loved to paint a boombox white as part of the project.) It then occurred to me that this would most likely be an ongoing issue, since people generally would be looking to buy items that actually work, not just delapidated pieces of technological history. Feeling somewhat discouraged, I finally went to a thrift store (Monk Thrift Shop) near Washington Square Park, and hit the jackpot. Apparently they stock a lot of old as-is technology and housewares thanks to the demand from NYU film students shooting period pieces for school projects—if you're ever in need of some really cool old but very aesthetically interesting items, definitely check it out.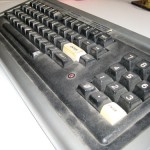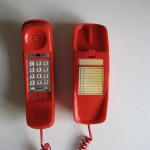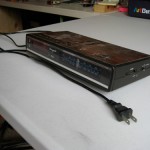 Walking out of the thrift shop, I had come away with a stellar and comically large old alarm clock (practically the size of a small ArtBin) an old analog phone, a broken-down desk lamp, a massive solar-powered calculator, a couple old mix cassette tapes, and the keyboard [and all the relevant computer chips/brains] of a TRS-80 microcomputer, one of the first personal computers manufactured for public consumption in the late 70s. Once home I really could not bring myself to paint something of that vintage and significance, so the TRS-80 did not make it into the shoot. And for that measure, the phone—a beautiful bright cherry red color—was allowed to keep its hue as an accent to its soon-to-be-colorless friends. But the rest of the items came up to the roof with me and my can of spray paint and joined the white picture frames, undergoing a full color-stripping/white-washing session. (A few of the items, the lamp in particular, I painted with a very heavy hand in order to achieve an especially crackly/distressed look.)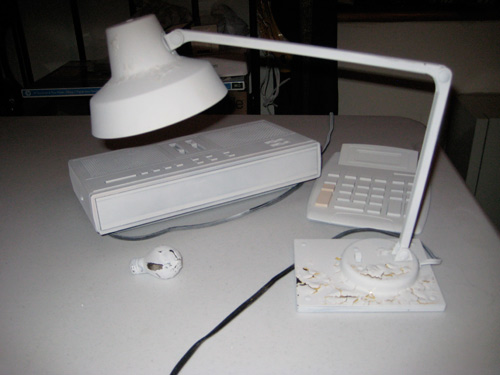 I placed the objects together for a quick photoshoot, then arranged them in positions that would be similar to their intended use to replicate the bikes being placed on the street at the scene where the cyclist was injured or killed. I staged two main scenes: one with the broken-down desk lamp and large calculator at my desk, now surrounded by smaller, more powerful equipment; and another with the clock radio at my bedside table.
I'm very happy with the outcome of the project; the objects took on an almost haunting ethereal quality that really portrays the mood that I was hoping to achieve in honor of the ghost bike memorials.
Pictures of all the objects before, during and after their brush with a can of spray paint can be seen below, in additional to some more pictures and references regarding the ghost bike movement.
Ghost Technology | Photo Documentation
Ghost Bike photos retrieved from:
http://www.bikerumor.com/2009/08/05/ghost-bike-mystery-in-washington-heights-ny/
http://www.treehugger.com/files/2008/05/ghost-bikes-are-memorials.php
http://nbbb.wordpress.com/2009/08/09/baltimores-first-ghost-bike/
http://distantduck.blogspot.com/2008/12/ghost-bikes.html
Additional information and photos can be found at the ghostbike website: http://ghostbikes.org
You can read about the original inspiration for the current incarnation of ghost bikes at http://www.ghostbike.net/