My final project used enticing and vibrant color as a means to start chipping away at our country's childhood obesity epidemic. My goal was to create a visually stimulating toy/play experience that would allow children to "accidentally" learn some things about nutrition while they competed agains their own past scores or their friends.
The toy/game consists of a shallow box that contains a number of game pieces, each of which has a vibrant photo of a healthy food on it, and a point value on the back that would ultimately be derived from a thorough analysis of their nutritional value. (In later iterations I would also introduce a small number of unhealthy foods with negative point values.) The objective is to assemble the meal that they think will get the highest point value! (There is even a dry erase scoreboard included on the lid to keep score.) There are six different "compartments" or "slots" for the pieces to go in, sized so that the child has to include on item from each food group in their final meal, and a collection of extra pieces in a hidden compartment under the main board.
My hope is that with repeated playing of this type of game, children would become familiar with healthy foods and be more likely to eat or request them in real life. When you spend so much time looking at beautiful photography of saturated vitamin-rich foods, for many people frieds foods would start to look less and less appetizing—and while I realize this is less likely to happen with kids, I believe that there is something to be said for our instinctual attraction to brightly colored (read: nutritionally valuable) fruits and vegetables that was developed over thousands of years. Marketing is certainly a tough beast to go up against, but this type of activity could only help, not hurt, the situation.
In addition, the game would work in some ways like a game of Memory, where the child would start to remember the point values associated with each type of food, which would hopefully stay with them later in life. Giving kids a sense of what food is good or bad for them at a young age in a positive way could be highly valuable by allowing them to wield some knowledge on nutrition without burdening them with worries about calories and fat—burdening children with the concept of "dieting" at a young age can be dangerous for some, potentially leading to the beginnings of bad lifelong relationships with food.
Images of the final/current prototype can be viewed below:
The Assignment.
To create a zine investigating some realm of color and culture. The product can be a traditional zine or depart from the traditional format to explore other areas of the topic chosen.
The Result.
A zine demonstrating the effect of color on life situations, encouraging the reader to think about their own color choices and to take charge of their mood through the use of color. This particular edition focuses on the Winter blues, showing the reader how a simple piece of clothing or prized possession in a brighter, stimulating shade can change the way you interpret the things around you, potentially in a very positive way. It emphasizes the use of bold saturated color in somewhat nontraditional places in order to spark the curiosity and pleasure of yourself and those around you.
The Zine.
Detail shots.
The Aftermath.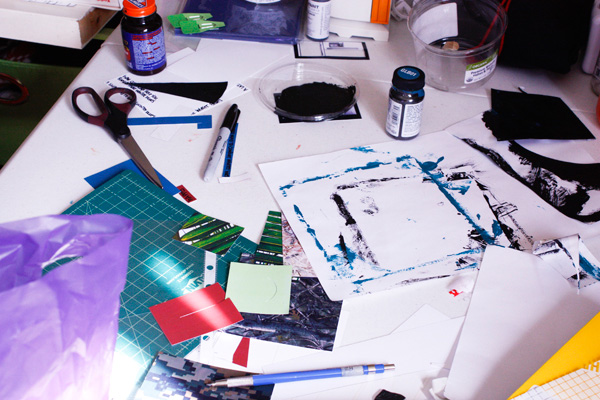 After a very helpful in-class critique, I decided to go in the direction of investigating the impact of color and pattern on the objects around us. Specifically, I want to examine the role of ubiquitous and plain artifacts (appliances, homes, vehicles, and other utility artifacts) in our lives, and how that role might change if we were to give it a new personality through the layering of color and pattern.
For imagery, I started playing around with some images of everyday artifacts and what they might look like if they were to be painted with either bold color or patterns. I love how the mood of both objects (I chose a home and a refrigerator for this round) changes completely with each color/pattern change, and am excited to look more into this area of exploration.
The House.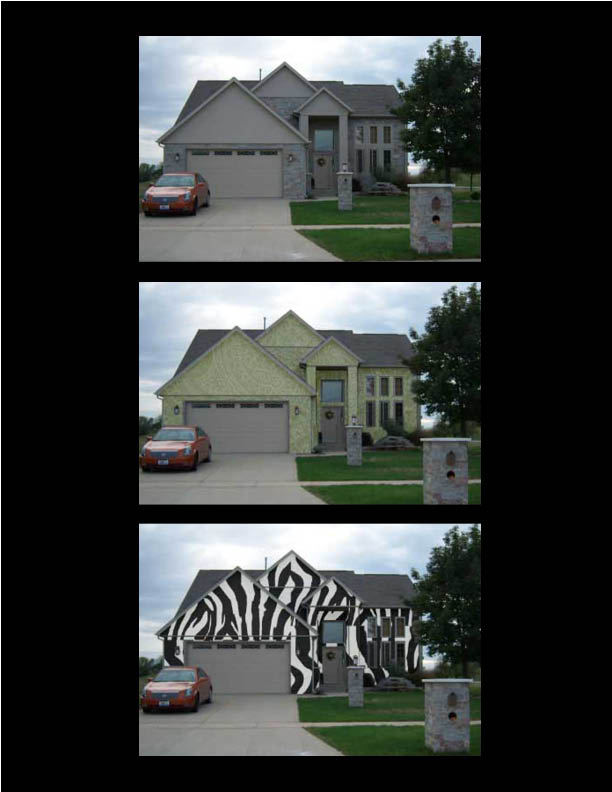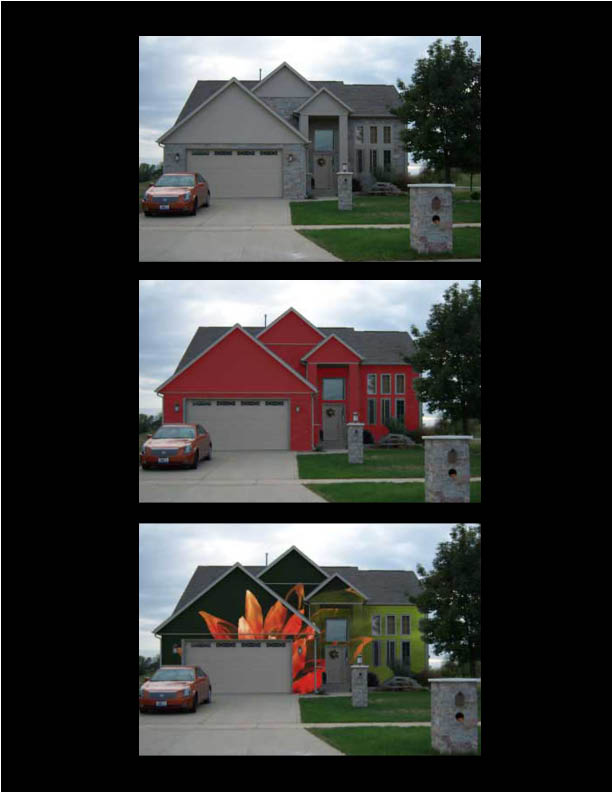 The Refrigerator.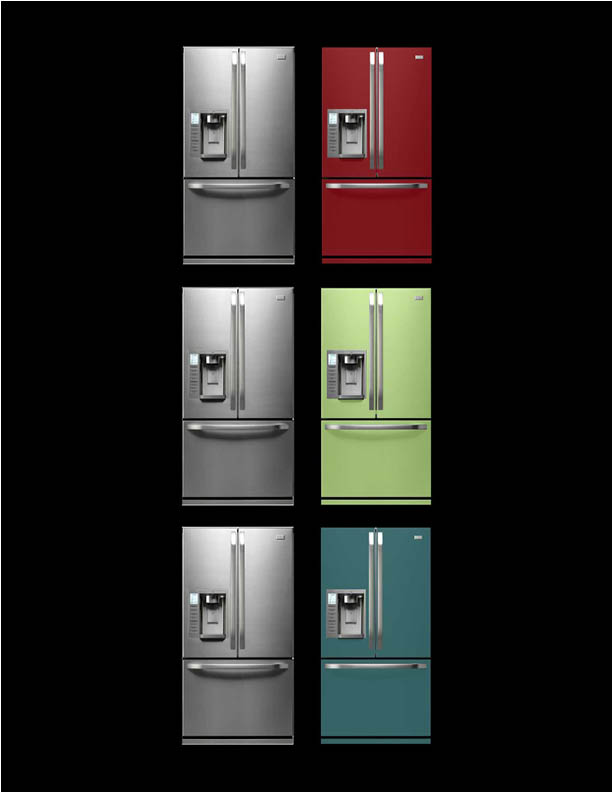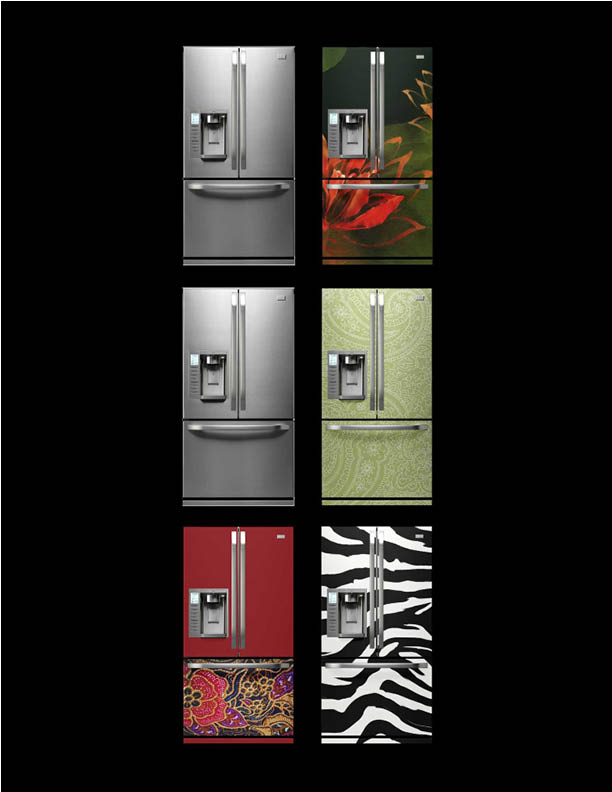 The Zine Itself.
For the zine, I want to play with the idea of giving the user a sort of simplified tangible mini-Photoshop where they can experiment with pattern and objects on their own (in addition to some imagery like the pictures above that I would execute). The form I'm currently playing with is a double roll fold with interior pockets to hold patterned transparencies for the user to place over various images—each image would have a separate mask layer that would allow the user to insert the transparency in between the two layers in order to "apply" the pattern to the object and not the entire photo.
Photos of the current mini-prototype are below.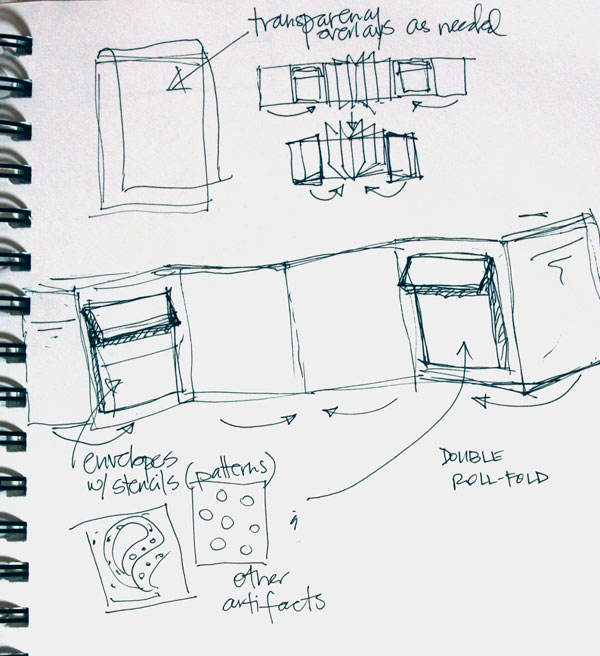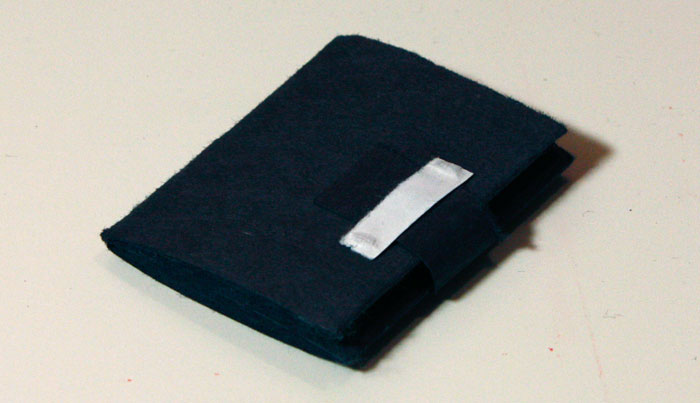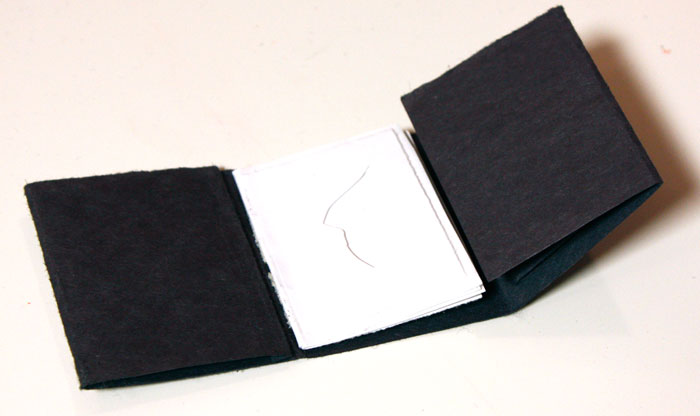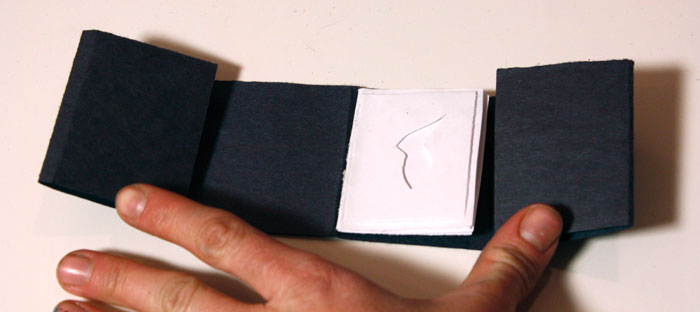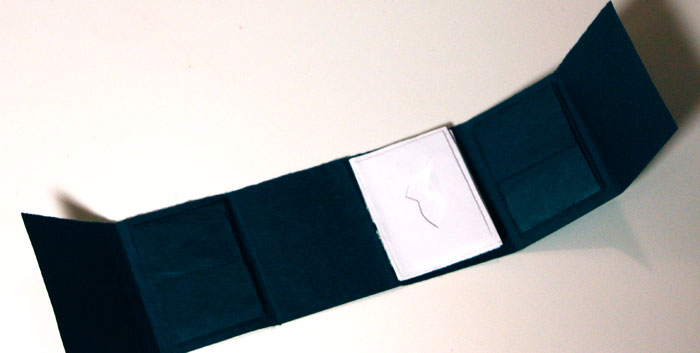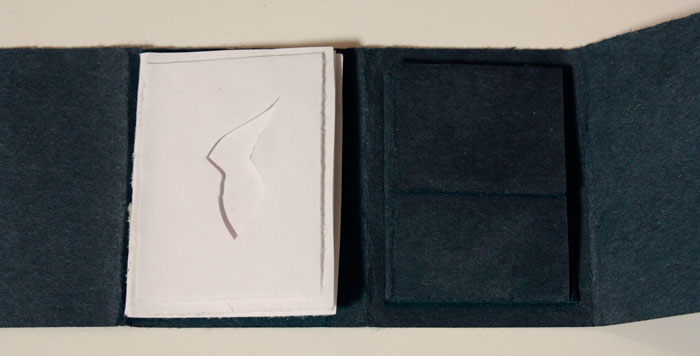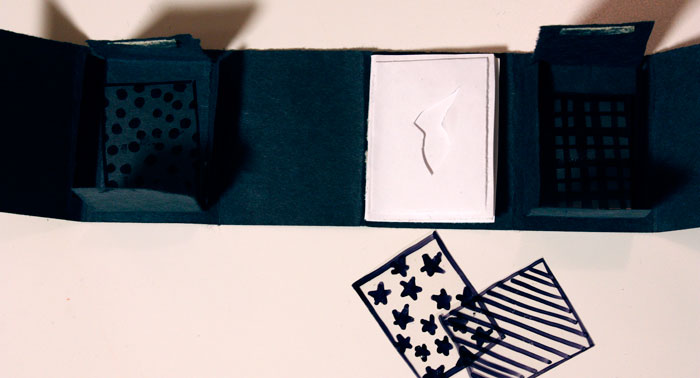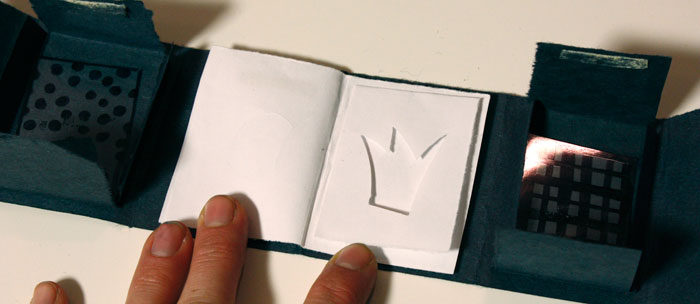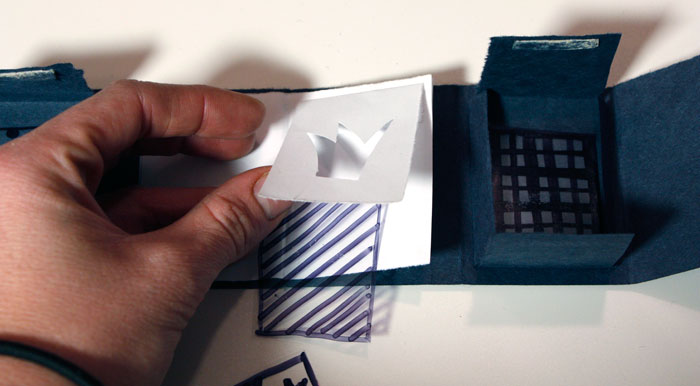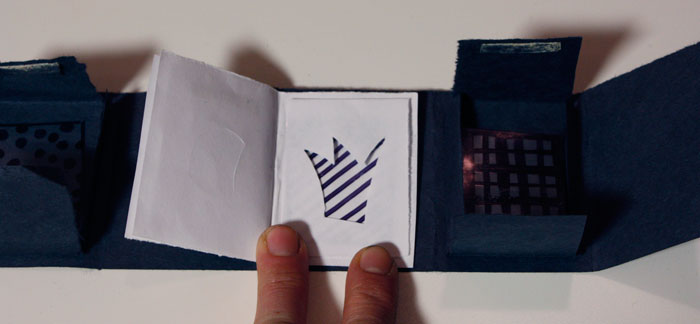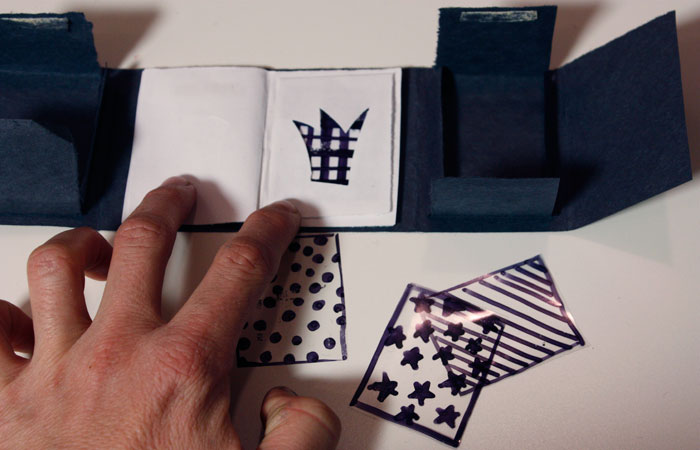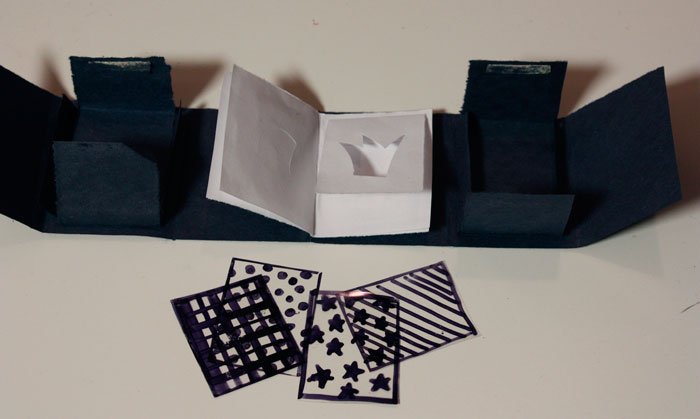 I'm still a bit all over the place as far as concepting for the upcoming zine project, but I suspect that I'll want to dig into the interactions of colors in pattern, as well as the use and interpretation of both patterns and the color interactions within them. I'm not sure on the specifics, but I hope to focus on the day-to-day perception of objects and what might happen if objects normally lacking pattern were suddenly inundated with color and shape on their surface.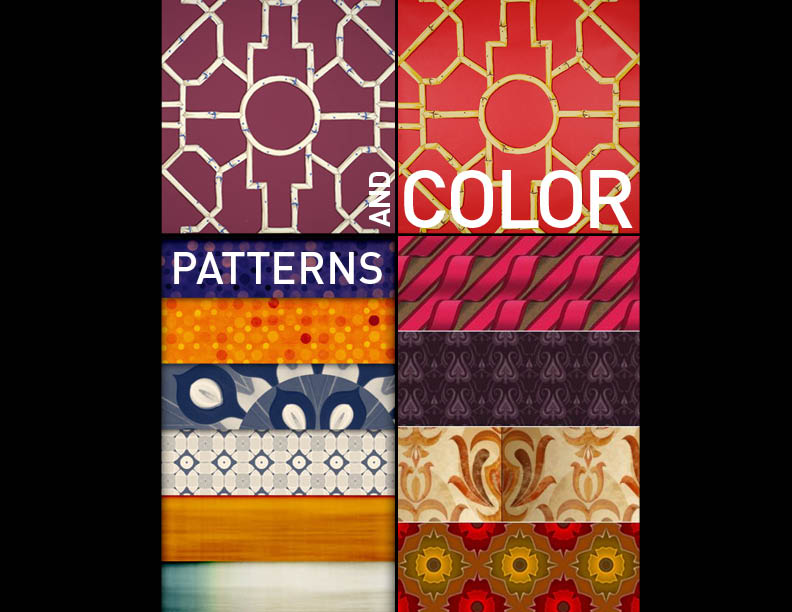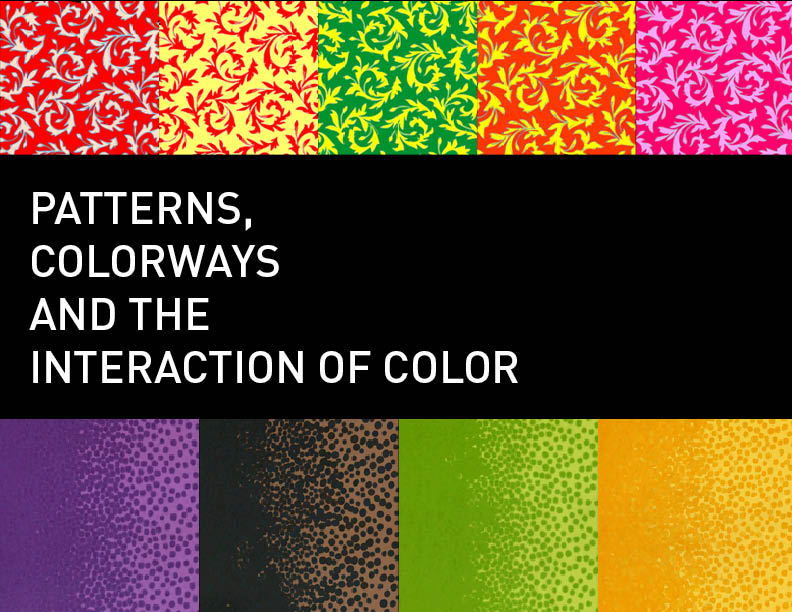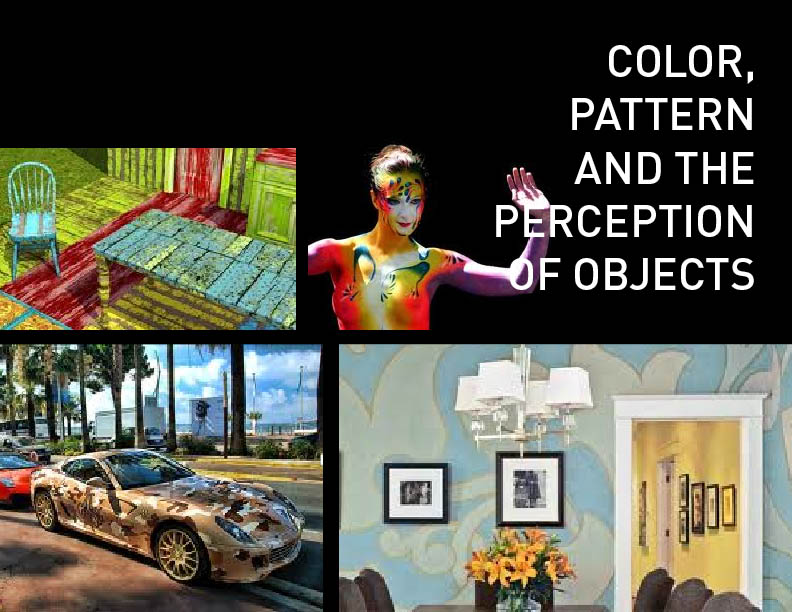 The assignment: reworking the composition and structure of a master painting while still maintaining the overall color balance and feel. I chose Gauguin's Femme portant un fruit because of it's rich array of colors and composition. The first is the exercise that I found the most successful—the one below was my first attempt.
The Masterpiece.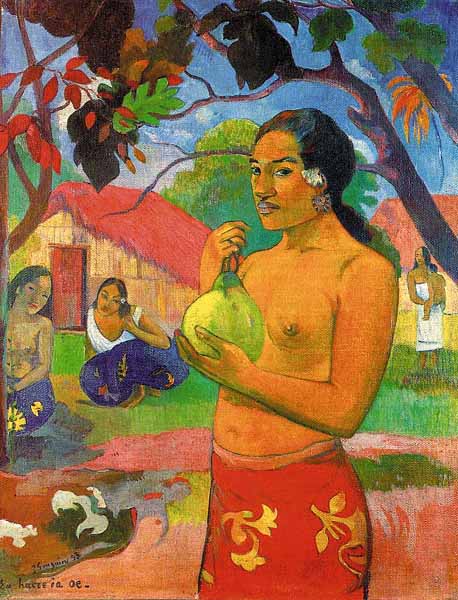 The Winner.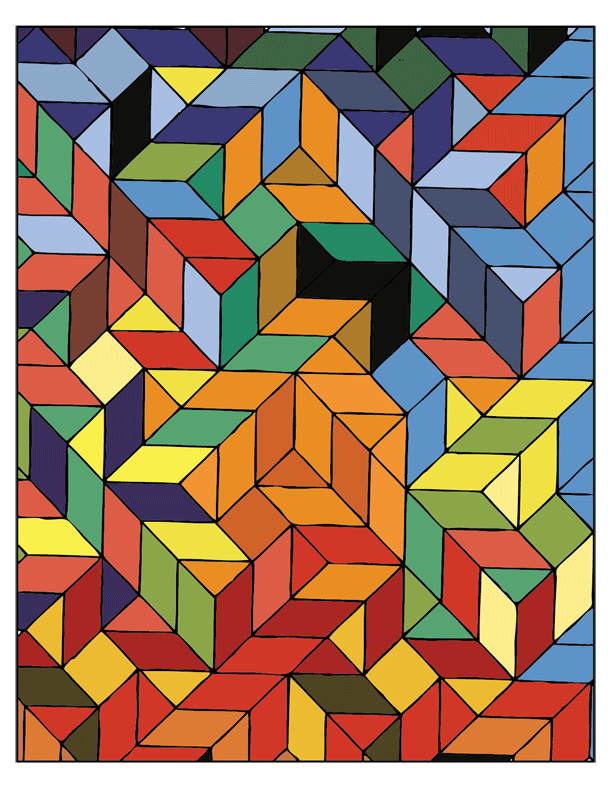 The Runner Up.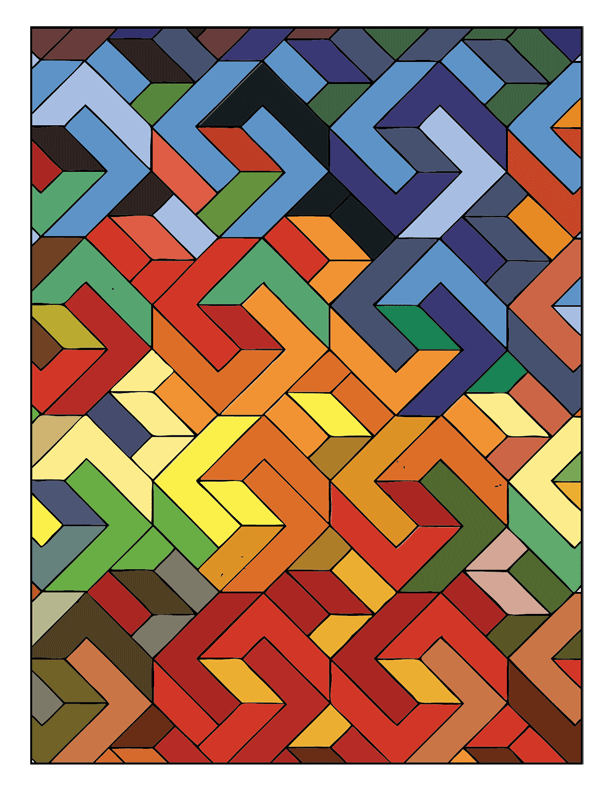 The assignment: pick one spectral color and one neutral color, and then create a duller, brighter, darker, and lighter version of each color. The results are below, laid out in order to have the most edge-to-edge contact points possible for comparison..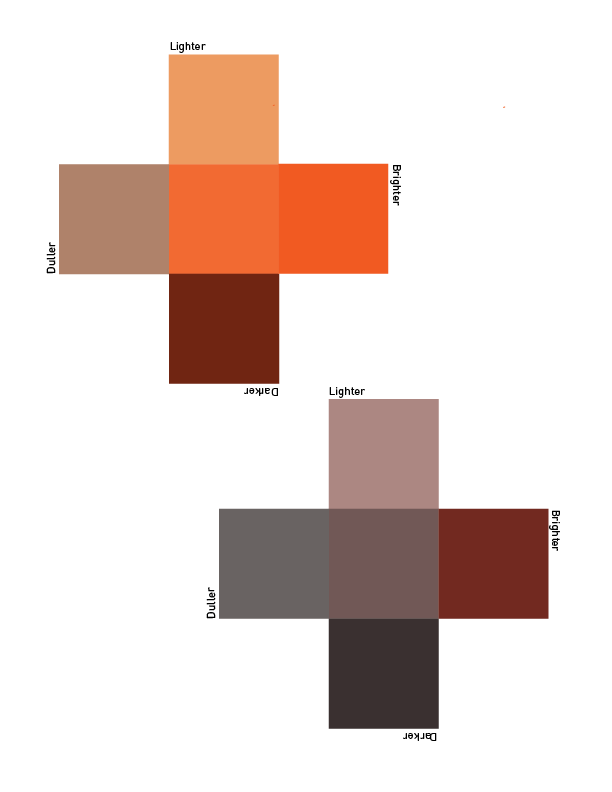 While my neutral isn't quite a neutral (it does lean a bit towards the red-violet instead of the truly ambiguous domain of the neutral) I enjoyed seeing how much color is hiding inside these "dull" colors that adorn our clothes, walls, furniture, and countless other unobtrusive parts of our lives.
Browns and grays get a bad wrap as lacking "color"—but in reality, they have more distinct hues than any of the "bright" spectral colors that one might put at the top of the "colorful" totem pole.
For this color as culture assignment, we were asked to pick an item with cultural significance and look at how the colors (and the pigments that may have created them) interact with the object and the culture they're representing. As I don't really identify strongly with any culture, I chose to look at two of my lacrosse sticks, due to their rich history in Native American culture and in my life as well.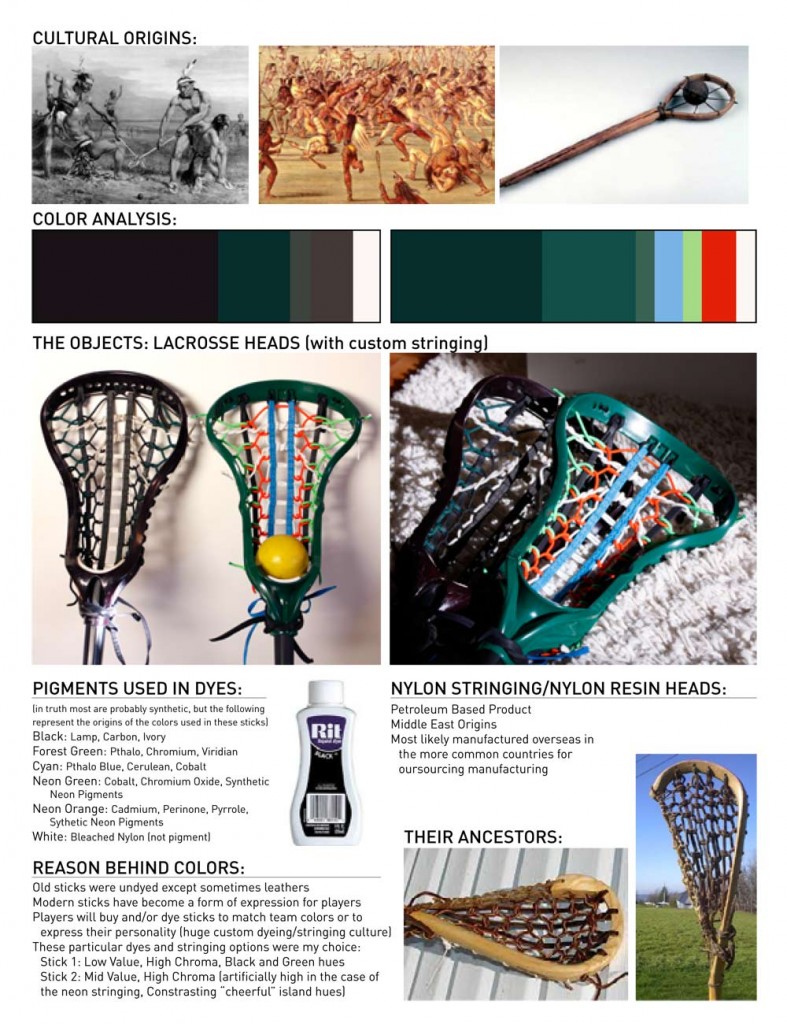 While the two that I chose to picture are made of plastic (nylon resin) and strung with nylon stringing and leather, they originate from a culture of handmade sticks made from natural materials (pictured top and bottom right). The game of lacrosse (baggataway as it was called in certain Northeastern tribes) was an integral part of Native American life, used both for enjoyment and as a method of determining the winner of land disputes. (Way better than atomic bombs, huh?) This richly ingrained history is connected to these plastic sticks still, despite how far they've come in technology, materials and appearance.
The modern game of lacrosse, and the plastic sticks that have taken over the scene in the last 10-15 years, has a very different aesthetic than the original handmade sticks, and afford players an opportunity to express themselves or represent their team colors with their dyeing and stringing choices. (I custom strung both of these sticks, and custom dyed the black head, so was responsible for these particular color choices.) The new colors present in modern sticks may take them far away from the originals, but in a way reflects the spirit that was present in the first sticks—the Native Americans believed (and I'm sure many still do) that a warrior's stick was linked to his soul, almost as an extension of his person. By being able to customize the colors of plastic sticks, we have taken back some level of control over the otherwise mass-produced items, injecting our spirit back into those nylon resin molds.
My perception of my own skin tone changes with the season (my coloring when "tan" and "pale" can totally change my overall appearance through the way my skin tone relates to my hair, eyes, etc) but at this particularly wintery moment, I'd say that my skin is on the light side of the worldwide spectrum. It's definitely not in the palest grouping, and has a little bit of an olive undertone (further evidenced by how much better I look in reds and oranges than a wide variety of the cooler blues) but is lighter than what I would imagine to be average worldwide.
Depending on what part of my skin you were trying to match (whether you were aiming for my hand, the inside of my forearm, my face, my collarbone, etc) I would expect it to include some warmer reds and greens with some white to lighten it up, and I'm sure some nuances of other colors as well. (Maybe some yellow? I'll have to tinker.) It'll be interesting to see what really does go into mixing my own skin color with paints, it would definitely help me in my painting to be able to mix convincing skin tones in order to breathe some life into human subjects.
This week, after presenting our color biographies, we were asked to switch autobiographies with other students in the class, and reinterpret their autobiography through the lens of our own color perspective—in a sense, bridging the gap between their world color view and ours. The first two images are my classmate's color autobiography that I was asked to reinterpret; the third and fourth images are my response to her piece.
While my original color autobiography had been a two-dimensional piece using found images, I decided to respond to my classmate's work by interpreting my own color personality in three dimensions. Using a different base to inject a feeling of natural materials, I wanted to mimick some of the flowing materials in her piece but using my own spin, utilizing different textures, patterns, and colors.
And if you are viewing this post out of sequence with the rest of this class' work materials, here is a link to my original color autobiography.
My classmate's piece.
My response.
In our Color as Language Collab, we were asked to create a "color autobiography" for ourselves. The following image (a collage of found imagery) was how I chose to represent myself [this week].